Bioclear Event Specials
Thank you for visiting Bioclear Matrix System and attending our course. We value the time you set aside to learn more about treating your patients with the Bioclear Method.
We are extending to you our special course pricing of 20% off select products through July 2nd at 11:59 PM PT using code Galler2022 at checkout or through a rep. You can order in person with a Bioclear Expert, online using the code Galler2022 at checkout, or over the phone by calling 855-712-5327. To view discounted items, please view the promotions below!
All Virtual Hands-on Intro, Black Triangle Certification, and 4-Day Core Anterior and Core Posterior Courses are 20% off July 1-2, 2022. To register for a course, contact education@bioclearmatrix.com or call 855-712-5327.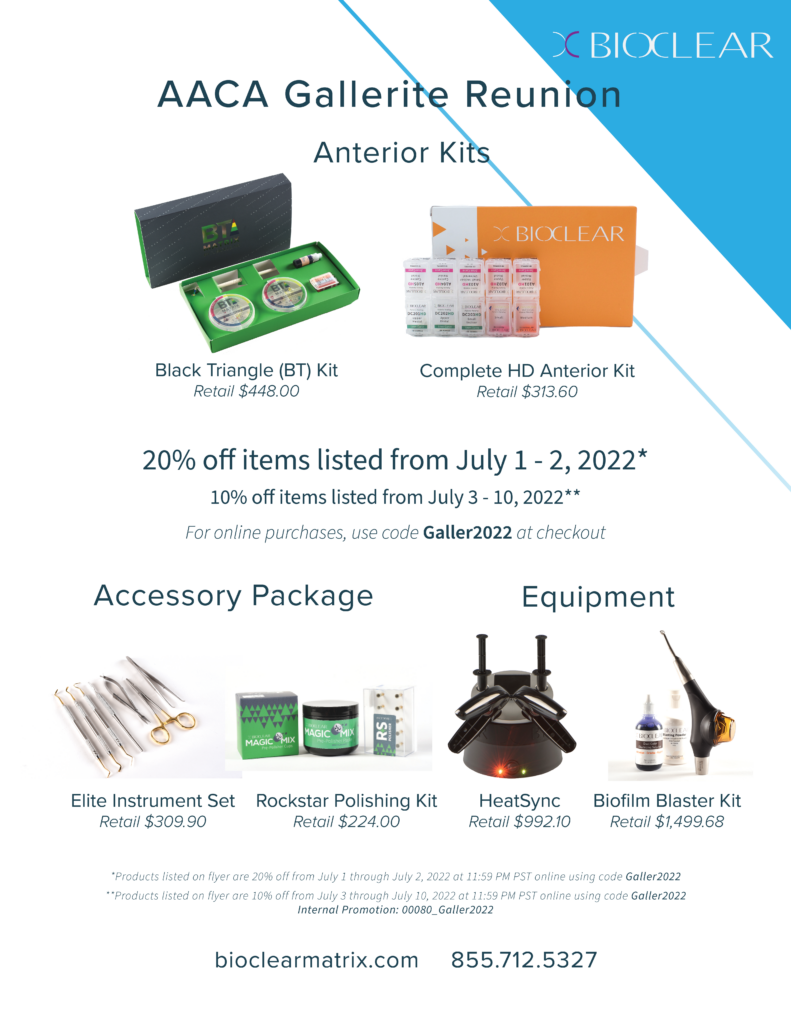 Black Triangle Certification Quiz
If you are looking to complete part one of the Black Triangle Certification Course Quiz, please click here.
PDF of Dr. Clark's Presentation
If you would like to view to download Dr. Clark's presentation in PDF form, please click here.
Contact Us
To contact a Bioclear Expert, please call 855-712-5327. If you have product questions or would like to purchase products, please email nicole@bioclearmatrix.com. If you have education questions or would like to register for a course, please email education@bioclearmatrix.com.